Kefalonia is a large, verdant island surrounded by the clean crystalline waters of the Ionian Sea and so it would be strange if it didn't have an impressive coastline. No matter what your preferences are, in Kefalonia you will find all sorts of beaches: from busy and well-organised to secluded and unspoiled ones. Long sandy beaches in the southern part, but white pebbled ones in the north. The scenery is always enchanting though, with dominating white cliffs covered with lush vegetation, spectacular views and romantic sunsets.
The most famous beach and the trademark of the island is Myrtos beach, 30 kilometres away from Argostoli, the capital of Kefalonia. Its semi-circular shape with the surrounding hills is distinctive and is found on many postcards picturing the island. It isn't a sandy beach, instead it's covered with little white pebbles that come into strong contrast with the turquoise waters of the sea. There is an organised part with sun loungers and a snack bar, but overall it remains quite unspoiled. Despite the surrounding cliffs, there might be strong winds blowing here and the sea current tends to become stronger in the afternoons.
A beach with ideal conditions for swimming and equally stunning and popular with Myrtos is the Antisamos beach. The scenery is quite similar as it is surrounded by the mount Avgo – meaning egg- and is covered with white pebbles. It became popular because some of the scenes of the film "Captain Corelli's Mandolin" were filmed there. It is easily accessible from the coastal road in Sami and it's 27 kilometres away from Argostoli. From there you can enjoy the view of the neighbouring island of Ithaca. Not suitable for children, though, as the water is extremely deep!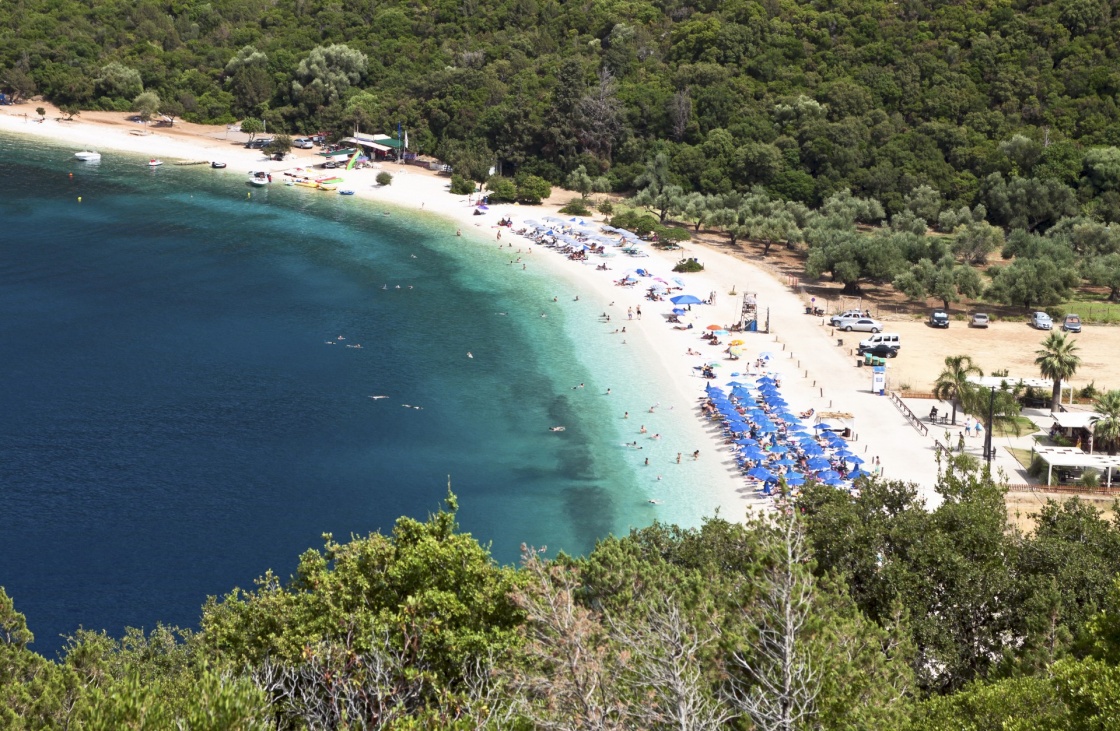 'Beach of 'Antisamos' at Kefalonia island in Greece' - Panos Karas / Shutterstock
Emblisi is one of the most beautiful beaches on Kefalonia, very close to the village of Fiscardo. It is again one of the pebbled beaches of the island and the scattered white rocks which make the scenery even more tropical are ideal for sunbathing. Even though there are no tourist facilities, it can get quite busy due to its close proximity to Fiscardo and the easy access.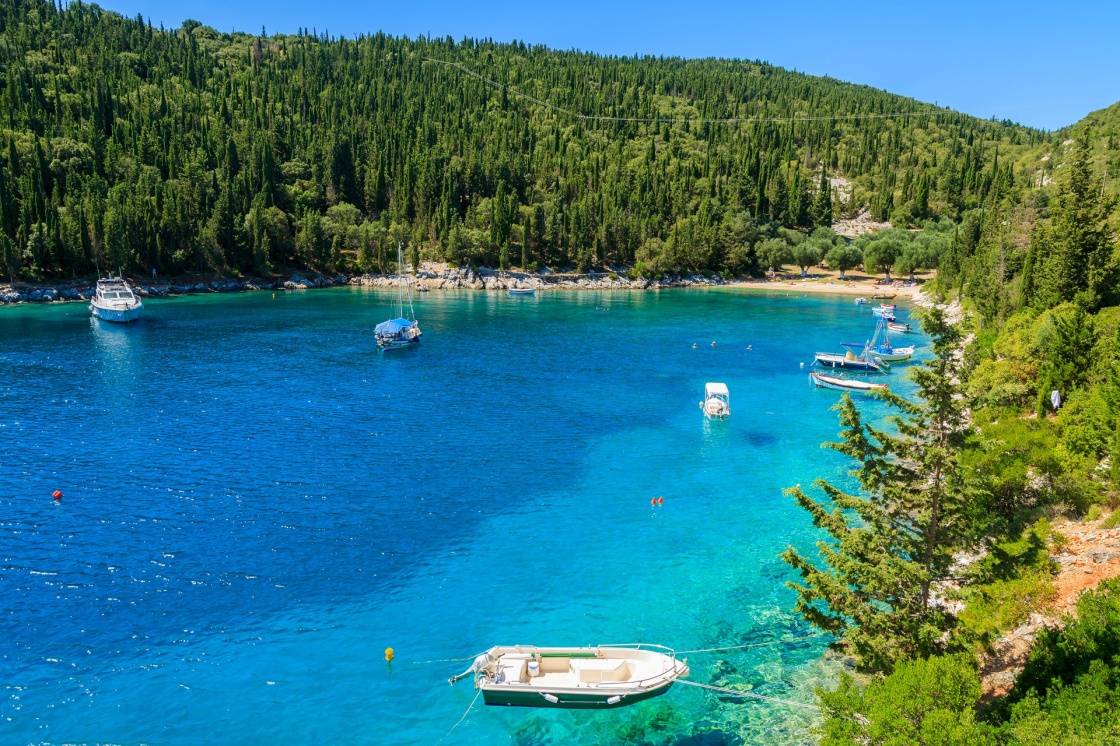 'Fishing boats on turquoise sea in bay near Fiskardo village, Kefalonia island, Greece ' - Pawel Kazmierczak / Shutterstock
Foki is another beach near Fiscardo, which is actually at a walking distance from it. It got its name from the Mediterranean monk seals (Fokia in Greek) who enjoy the waters there. If you are lucky enough, you might come across one of them while you are swimming! It is safe for swimming because of its relatively shallow waters and that is the reason why many families choose to go there for their swim. It is also quite small and it might feel a bit crowded, but it is definitely worth visiting and diving into the sea from the flat rocks found here.
Of the sandy beaches of the island, Skala and Lourdas are among the best. The first one is a long beach near Mounda bay and it has been awarded with a blue flag many times. If you are into snorkelling, you can admire the stunning underwater life of the Mediterranean. You can also take boat trips to nearby islets and small coves. The second one, Lourdas beach, is a well-organised beach surrounded by mount Aenos and its beautiful waterfalls. It is covered with white sand and two rows of sun loungers and umbrellas. There are a lot of restaurants, cafes, taverns and shops nearby and it is easily accessible by the local bus service from Argostoli and other villages.
Last but not least, the beach of Xi (pronounced 'ksi') is a sandy beach, but what distinguishes it from the rest of the sandy beaches on the island is the reddish colour of the sand. The sand is rich in clay which gives it this special colour. It is said that sunbathing here is like having a natural spa, since clay is good for peeling and tightening the skin. It is relatively organised with a few facilities and is good for water sports. You will also be able to find secluded spots, as it is a very long beach.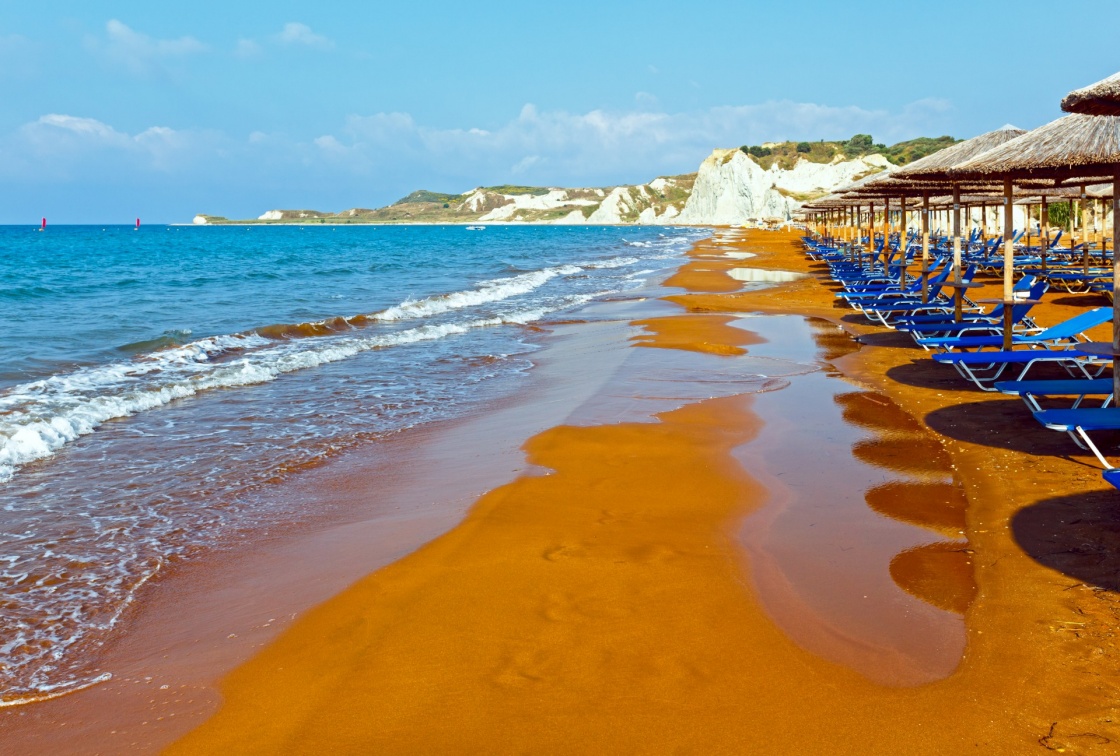 'Xi Beach with orange sand. Morning view (Greece, Kefalonia). Ionian Sea.' - Brykaylo Yuriy / Shutterstock
Other popular beaches near Argostoli are the Makris Gialos and Platis Gialos beaches, which are connected and therefore you can either walk or swim from one to the other. Minia are actually three beaches with different features and Kateleios is a protected area without any tourist facilities, ideal for long walks and fresh fish at the taverns of the village.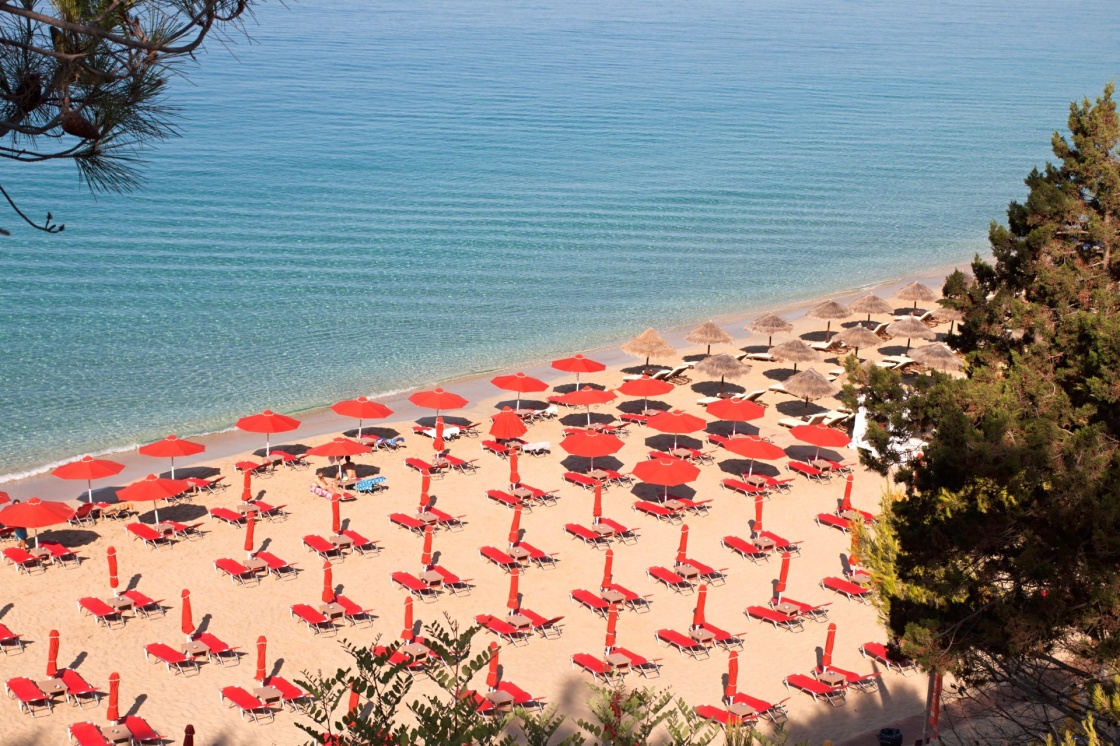 ''Makris Gialos' and 'Platis Gialos' beach at Argostoli of Kefalonia island in Greece' - Panos Karas / Shutterstock
If you have enough time to visit more beaches, then you might want to enjoy sunbathing and swimming in Ammes, Agios Helis, Ligia and the beach of Agios Thomas in Trafliata. In the southern part, there are the beaches of Avithos, Trapezaki, Limenia, Makria Petra and Lazarus. There are also the beaches of Agia Efimia and Platia Ammos in the northern and Petanoi and Megas Lakos in the western side of the island respectively.
Kefalonia is a verdant island with interchangeable landscape and distinct beaches that offer unforgettable memories, spectacular views, lovely sunsets and refreshing swims in the crystal clear waters! Visiting the beaches of Kefalonia will certainly make you feel as if you are visiting a different island each time!